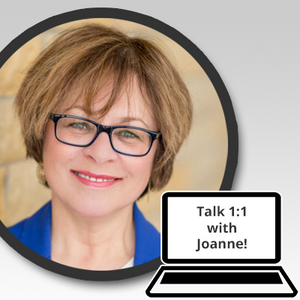 30 Minutes 1:1 with Joanne: Growing Your Referral-Based Career Coaching Business
Now, a session designed to help the new/newer career coach GROW your client list.
Joanne wants to help (new, especially) coaches be as successful as she has been. Helping others DOES pay well - if you know how to manage your time, your business, your marketing, your client load.
This is a half hour plus loaded each time you talk with Joanne, with "how-to's" that will teach you to manage the reality of your business, not just gaze at a wish list. And each meeting with Joanne results in action items that will give your expertise more energy -- and YOU more clients. Sign up for as many times as you like.
Many coaching certification programs do give "how-to's" -- but don't give enough on how to land clients by referral. Joanne's help gives you that: practical, business-building tasks that you can ramp up at your own pace.
Your background: whether you're coming out of HR or business coaching or similar, or are already a career coach, you need additional training. You cannot just feel your way if you're helping people with their LIVES.
So your motivation is helping others. That's required. So you're in (or about to start) a career coaching certification program recognized by career coaching authorities. Or maybe you've completed one but still have questions.
Some topics that coaches have asked Joanne about (and you might have the same questions):
- How to get business?
- What do I charge?
- What do I concentrate on with my business - what is the whole project, how to I put my passion at work, and what will be my "meat and potatoes"?
- How to I get referrals? 
- How do I manage the client's session, a client's project?
- How do I market my business? What is the role of networking (huge!)?
Requirements: 
- Currently full-time or aiming to be full-time career coaches, in practice, or either IN a career coaching certification program or soon to be enrolled in one 
- You have a burning desire to succeed
Get started today: add this product to your cart, and make the payment. Then Joanne will be in touch with you about setting up your time to talk. 
(Prefer to email Joanne first, to make sure this is right for you? That's fine - write her at Joanne@thejobsearchqueen.com, and you'll hear back.)