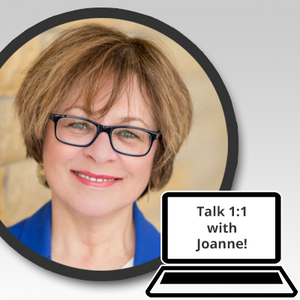 So many people KNOW they must be on LinkedIn for their career AND job search, yet aren't getting views. Or they don't know if what they've written will attract the attention of hiring managers or recruiters. Or they don't know how to engage their network or "mine" LinkedIn.
In this session, you'll learn HOW to do all of that. And after making some more edits, you can be using your new profile. 
Make changes that day that will make it an All-Star level profile AND attract double the clicks you did before (as reported by clients).
Joanne Meehl does an in-depth, 90-minute live review of your LinkedIn profile with you via Zoom to tell you what will work for you. She walks through your profile with you, giving you ways to complete each section in such a way that both the human reader AND the technology that reads LinkedIn profiles, can see you loud and clear.

And if needed, we'll spend more than 90 minutes, at no extra charge. Really?! Yes - Joanne wants to make sure your profile has full impact.

From your photo and headline to the About section, Experience, recommendations, endorsements, groups, and every other section, Joanne will give you best practices and tips for what works. And will work with you as you edit. Her gurus are recruiters who tell her how people like them, using LinkedIn, find candidates. She's learned from these real-world experts and now gives it to you.
How can a nationally-known career coach like Joanne offer such a rich service for so little? "There's so much misleading myth out there about LinkedIn profiles that I want to make sure you are competitive from the get-go", she says. "I simply love doing that!" She does profiles that attract human readers AND the technologies that hiring managers use to find candidates on LinkedIn, in which she has a certification that is tech-based. And instead of charging $450+ for 20 minutes, she gives much more for much less cost.
Many of her clients are found by employers on LinkedIn who tell them "Your profile is robust, it's how we found you!" -- and they turn these contacts by employers into interviews and get job offers...you can, too. 
She'll also tell you how to USE the profile once you update it -- updating is just the beginning -- to better attract those who have the job you want. She'll tell you, for example, where the settings are that draw in recruiters but that no one else can see. 
Additional guides and materials especially chosen for you are provided at no extra charge, to keep your new and positive momentum going! 
Joanne gives you a lot and always over-delivers. Why wait?
This is a great companion service to the Line-by-Line Resume Review with Joanne Meehl (see description here at the Store), strongly suggested so that your resume and your LinkedIn profile become strong "branding" partners for you.
***First, email Joanne to learn if this option is right for you. You and she willl have a brief talk (free) before you decide.***
Next step: Once you select this item and the payment transaction is complete, you'll be contacted within 6-12 hours about arranging your time with Joanne. What are you waiting for, when your profile can be working for you in less than a day?