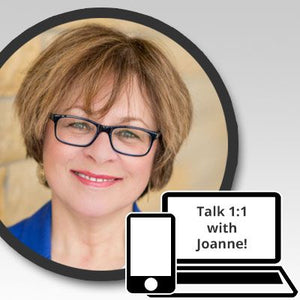 Created for that "I need help with this issue" moment, this option is for 20 minutes of private time with Joanne Meehl, via Zoom, dedicated to you. Time for you, and no one else.
Have a question about job search? strategy? networking? interviewing? resumes? LinkedIn? recruiters? Job search in this time of AI and ChatGPT? Ask Joanne, and she'll either give you an answer or help you find it.
Perfect for questions like this:
- "I don't know where to start in this thing called 'job search'...it seems so overwhelming..."
- "I'm moving to be closer to my family in Virginia...how do I start building a network there?"
- "Are cover letters still used? I'm hearing all kinds of things -- what's the truth these days?"
- "I've been at one company for 20+ years but it's been bought twice over the years...how do I put that in my resume?"
- "My title has changed several times in this last 2 years...my next step is ___...how do I talk about this?"
This session is NOT meant for  "big" questions like "What career should I pick next?", or "Can you take a look at my resume and tell me what you think?", which are questions that require a good amount of quality time to answer. 
And Joanne does not address legal questions, like "Can I sue my employer for ____?" -- that belongs with HR and Employment Law attorneys.
If you aren't sure if your question is right, ask it anyway -- Joanne will find a way to help you no matter what.
Joanne gives you a lot and always over-delivers. If your meeting with her runs over the 20 minutes, there is no extra charge. Why wait? Given today's great need for job search help, you'll want to get on her schedule ASAP.
To reserve time, just put the item in the shopping cart, and proceed with the purchase. Joanne will be in touch with you within 6-12 hours to set your session time.