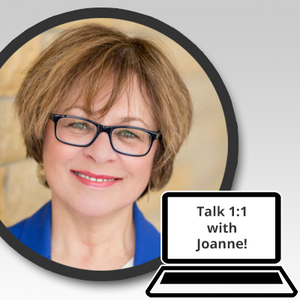 Interviews: What everything else is designed to get you. It's that meeting with the hiring manager or recruiter, that determines if you remain a candidate. Whether you do them IN PERSON *OR* via Zoom/Meetings/similar, this session gets you ready.
In this session, you'll learn HOW to take your interviews from almost-ran status to "I have to review their offer!" 
No fake "tricks and techniques", just the real stuff that makes an interview the true exchange of information that it is. INCLUDING TIPS ON AI-DRIVEN INTERVIEWS.
To get you ready for the practice part of the session, ahead of time Joanne Meehl will give you materials that will get you and "your head" ready. she'll share over 10 "interviewing tips" guides with you, such as -- 
- The Only 5 Questions Ever Asked in an Interview
- The "Weakness" Question
- The 15 Most Dreaded Interview Questions -- And How to Answer Them
- Questions YOU Ask the Interviewer -- Way Beyond "Culture"
- "Behavior-based" Q & A: Answering questions that ask for proof of success
You'll review these materials, then you'll briefly review a job posting you like and might apply for OR share with Joanne the actual job you're interviewing for. Then, using Zoom, Joanne videotapes you in a short segment of about 8 questions, then plays back the video for our discussion. Then she repeats this step, with her asking you additional questions, and you trying out new behaviors that work in your favor. It's an effective method that teaches you how to exchange information and influence the interviewer to call you back for round 2, or beyond.
***First, email Joanne to learn if this option is right for you. You and she willl have a brief talk (free) before you decide.***
Required: Laptop or desktop computer with camera, built-in or added on. Wifi, of course. 
Joanne gives you a lot and always over-delivers. Why wait until someone asks you "to interview tomorrow" BUT you haven't practiced in years?
This is a great companion service to the 60 Minutes of Line-by-Line Resume Review AND the 60 Minutes of Line-By-Line LinkedIn Review with Joanne Meehl (see descriptions here at the Store), strongly suggested so that your resume and your LinkedIn profile become strong "branding" partners for you -- and help you land the interview!
Next step: Once you select this item and the payment transaction is complete, you'll be contacted within 6-12 hours about arranging your time with Joanne. What are you waiting for, when your interviewing skills can be sharper and ready to use in such a short time?