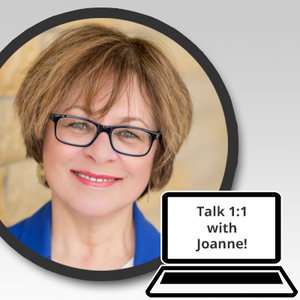 Do you call yourself a leader? That's great. But did you know that one quiet yet powerful way leaders lead, is to write and publish articles on LinkedIn and in business publications?
It not only adds keywords to your profile, it attracts people who are prospective clients or customers -- because it gives you credibility. And influence.
Because LinkedIn is not a juried site – meaning, no editorial board determines if you can publish or not -- you almost have to be even MORE careful about how you write and what you write as no one will stop you from posting poor writing or writing that does not have a solid, central idea. You have to be a good editor of yourself.
"I'm not a writer, Joanne, much less an editor", you're saying.
That's where I come in.
In this session, I review your proposed article or even "just" the sketch of an article or essay you have in mind. We decide on the central idea (you probably have way more than one but don't realize it!), organize the piece, do some wordsmithing, get it into shape enough for posting.
AND we talk about how you can then strategically use it to market you, your service or product, your cause, or your company.
And even if you're not a company leader and just want to make an impact wherever you are in your career, this session is also for you.
***First, email Joanne to learn if this option is right for you. You and she willl have a brief talk (free) before you decide.***
Testimonial:
"I wrote an article and showed it to Joanne...she told me honestly what to fix and the biggest insight was that it was really THREE articles...she helped me split it into the three, and gave me a strategy for using them to promote my consulting. It worked, and I kept writing, which has generated prospects for me. And I'm not a writer." - Interim CEO, Minnesota
TO GET STARTED:
Your pre-work:
Send me your article in Word, please, at least one day ahead of our session.
Tell me WHO your targeted reader/audience is.
How can I charge so little for all this? Simple: I love writing, and I love helping others be successful with this (I've done it for years). And now I'm going public to help YOU.